What is a Responsibility Assignment Matrix (RAM) in Project Management?
FAQ | Project Management Guide
Advanced Terminology
Introduction to Responsibility Assignment Matrix (RAM)
Project management is a complex process that involves multiple stakeholders, tasks, and resources. To ensure the success of a project, it is crucial to assign clear roles and responsibilities to team members and accurately define their tasks.
One tool that can help project managers achieve this goal is the Responsibility Assignment Matrix (RAM). In this article, we will explore the definition and benefits of RAM, as well as some examples.
If you're looking for a RAM template that will help you assign roles and clarify responsibilities, Wrike has a customizable template ready to go.
What is a Responsibility Assignment Matrix (RAM) in project management?
A responsibility assignment matrix (RAM) in project management, also known as a RACI chart or RACI matrix, details all the necessary stakeholders and clarifies responsibilities amongst cross-functional teams and their involvement level in a project. RACI stands for Responsible, Accountable, Consulted, and Informed and each letter corresponds to a team member.
A RAM in project management should be referred to by all parties throughout a project because it helps plan an individual's roles and responsibilities before work begins. A RACI matrix ensures all stakeholders know who is responsible for completing a task or getting feedback on deliverables.
The four roles are broken down as follows:
Responsible: The person(s) completing the task
Accountable: The team member coordinating the actions, making decisions, and delegating to those responsible for the task
Consulted: The person(s) who will be communicated with regarding decisions and tasks
Informed: The person(s) who will be updated during the project and upon completion
Responsibility Assignment Matrix example
A common RAM template looks like the example below. Notice how all stakeholders can have more than one role: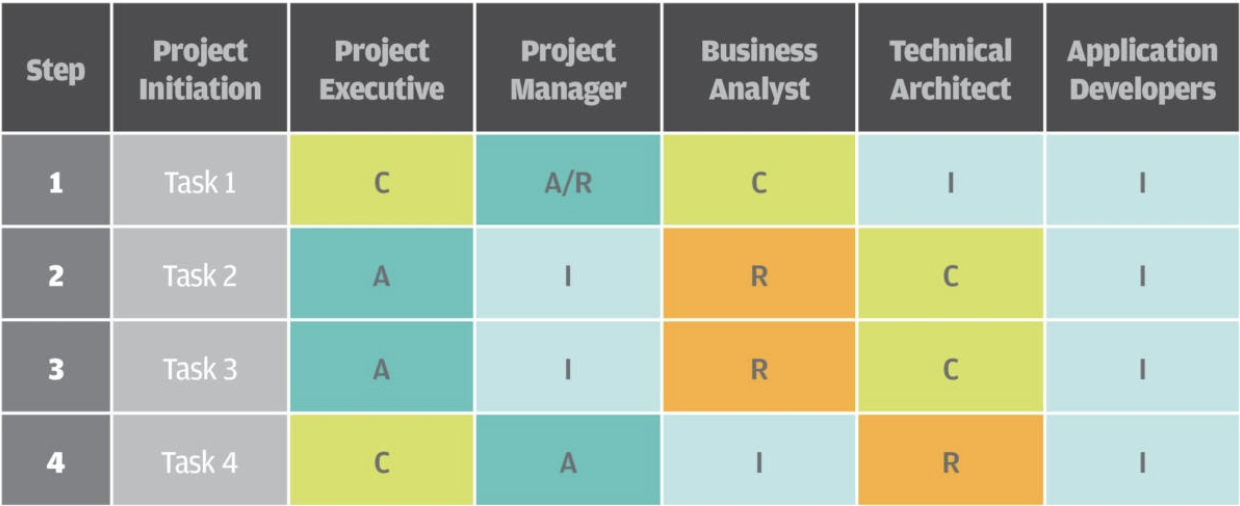 Responsibility Assignment Matrix template
Below you can see a powerful RAM template. The chart helps with visualizing roles and workload clearly. Therefore, project managers and team members follow the progress easily and stay on track.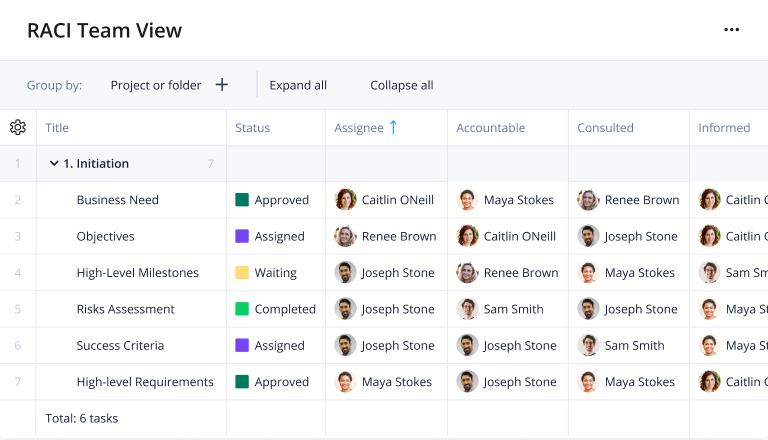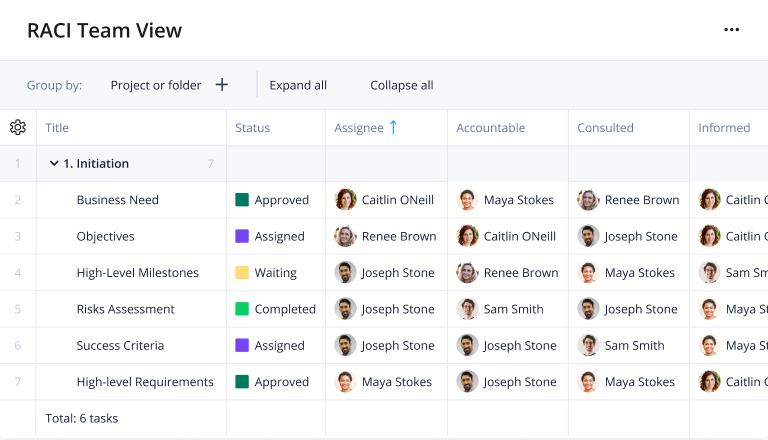 Clarify roles with Wrike
In conclusion, RAM is a useful tool for any project manager who wants to ensure their team is clear on their responsibilities. It helps to establish a structured approach to project management, allowing for better communication, accountability, and ultimately, project success.
Using Wrike's pre-built template, you can define the roles of each team member so everybody is on the same page. The template will also help you balance your workload and create complete transparency on your team structure.