What Are Project Management Tools?
FAQ | Project Management Guide
Tools
What are project management tools?
In today's fast-paced business environment, project management has become a critical component for organizations to ensure success. Effective project management involves planning, organizing, and managing resources to achieve specific goals within a defined timeline. However, managing projects manually can be challenging, time-consuming, and lead to errors.
Project management tools have emerged as a solution to these challenges, providing a range of features and functionalities. They are specially designed to assist an individual or team in managing their projects and tasks effectively. The term "PM tools" usually refers to project management software you can either purchase or use for free online.
In this article, we will take an in-depth look at project management tools, exploring what they are, the different types available, and their benefits. Additionally, we will offer insights into how to choose the right tool for your business and tips for making the most out of your projects.
Project management tools overview
Despite the name, project management tools are not just for project managers. Project management tools can be customized to fit the needs of teams of different sizes and with different goals.
What are some project planning tool features?
Project management tools can include the following features:
Planning/scheduling: PM tools allow you to plan and delegate work in one place with tasks, subtasks, folders, templates, workflows, and calendars.
Collaboration: Email should not be your only form of communication. With project or work management tools, you can build a better way of working with your team — assign tasks, add comments, organize dashboards, and proof or approve changes.
Documentation: Avoid missing or outdated files with file management features that allow for editing, versioning, and storing files.
Evaluation: Track and assess productivity and growth through resource management and reporting.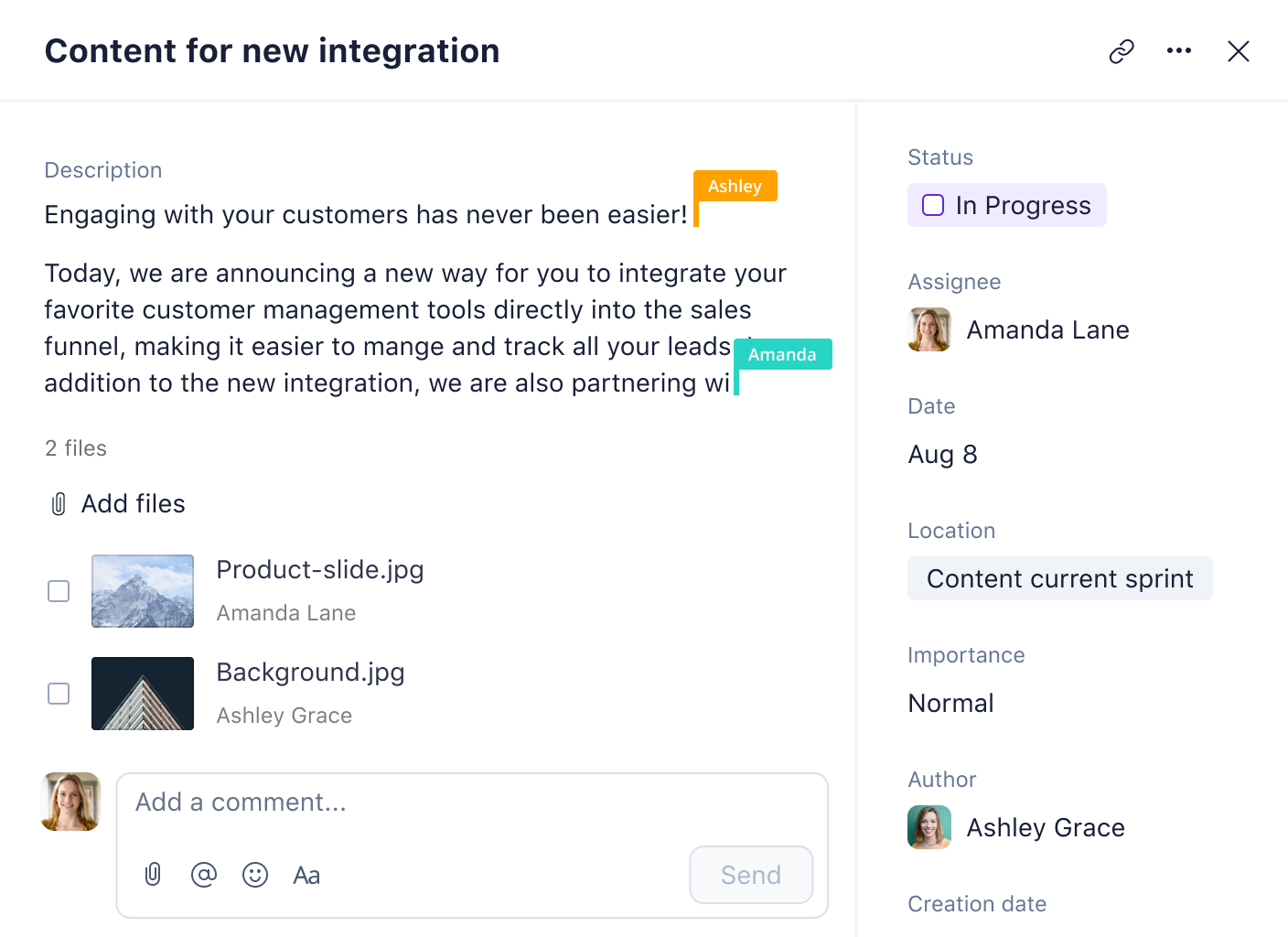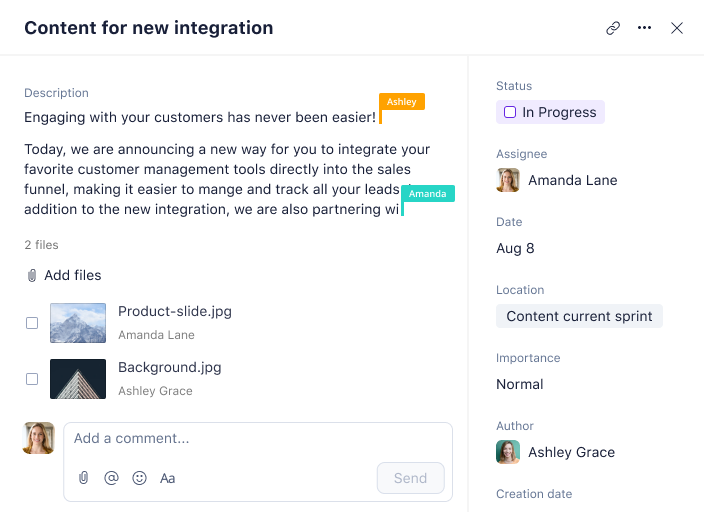 What are program management tools?
A program management tool is similar to a project management tool, save for a few key differences. Before we consider the comparisons of project management software and tools, let's first compare programs and projects.
Projects typically have clear start and end dates, with short-term goals that lead to tangible outcomes or deliverables. Constraints such as cost, resources, budget, and time all factor into a project's feasibility. Meanwhile, programs are composed of several interconnected projects that, when combined, achieve a long-term business objective. Project managers oversee individual projects, and program managers supervise groups of projects, focusing on a larger goal.
Program management tools need advanced features to track projects at a higher level and see how each project interacts with the others. These tools can include:
Flexible work views
Cross-functional resource management
Dashboards
Reporting
Gantt charts
Timesheets
So, to recap our project management software comparison: project planning tools help you organize individual projects, while program management tools track several interacting projects that work toward a larger, long-term business goal.
What is the best project management tool?
Now that you understand the purpose of project management tools and software, you may be wondering: what is the best project management tool? While there are many solutions on the market, the best web-based project management tool for your organization will depend on a few factors:
Number of users: How many people will be using the project management platform? The ideal platform will offer suitable options for both budding startups and scaling enterprises. For example, Wrike offers four different pricing plans as well as a free option, making it the perfect choice for every type of team.
Pricing structure: Can you try the tool first? Is there a free option for smaller teams? With Wrike, the answer to both is yes. You can try our software free for two weeks and smaller teams can avail of our tailored Team plan.
Key features required: Project management platforms offer a variety of features but you need to ensure your chosen one provides solutions to your specific pain points. Some of the most common project management features include:

Task management: The ability to create and assign task lists, add due dates, and monitor progress. This functionality is often displayed on a Kanban board.
Resource allocation: You should be able to oversee team member availability to assess who has the capacity to take on new tasks.
Collaboration: This incorporates features such as real-time communication, live editing, and @mentions to ensure team members can collaborate effectively.
Project planning: The ability to build and customize your project plan with key milestones and task dependencies, usually highlighted on a Gantt chart.
Budgeting: This feature will enable you estimate project costs and monitor expenses to ensure you don

'

t overspend.
Reporting and analytics: Some project management platforms enable users to generate reports automatically so you can easily visualize project performance.
Customization: The ability to tailor your project management software to your unique needs. This can incorporate your interface, team workflows, and request forms.
Integration: Multiple app integrations mean you can streamline your tasks and work from one single platform.
Mobile access: Mobile apps enable users to work on the go, ensuring you never miss important updates.

Scalability: Maybe your team is small now but what if you experience exponential growth? Can your project management platform evolve alongside your needs? With Wrike, you have the flexibility to grow your teams and expand your feature set without changing solutions.
Ease of use: Is your chosen project management app easy to implement? Will your team be able to use it right away? Additionally, more complex needs require more learning. If you decide to expand, will your team be able to adapt to new features easily? Wrike is both suitable for beginners as well as users who require more complex functionality.
Answering these questions will help you narrow down your options to find the best project management tool for your business.
Top features of a great project management tool
Teams that manage large company projects juggle lots of different tasks, from approving content to compiling reports on project performance. Implementing project management software that can keep up with their unique needs will help make their jobs much easier.
The best project management tools offer the following features:
360-degree visibility into projects and tasks, so you always have the latest updates
Dynamic reports, so you can access the information you need quickly
Real-time communication tools for seamless collaboration, including @mentions and live editing
Integration with all your favorite tools, from Jira and SAP to instant messaging apps
Time tracking software for improved resource planning
Customizable request forms, so you can manage all incoming tasks in one place

Automated workflows and task assignments for more efficient processes
The right project management tool will clear the way for your team, allowing you to focus on strategic planning and company goals.
Wrike offers all these features and more. Whether you're an agency or an in-house team, a startup or a large corporate enterprise, you can consolidate your processes in a central digital hub where you can streamline communication, share information, and get performance insights at a glance. See for yourself with a two-week free trial.
Want to explore more? In this informative video, you'll learn everything you need to know about project management tools, including how to use them as well as key features and benefits.
Introducing Project Management Tools