Advanced Terminology
What Is Project Integration Management?
Project management is a complex discipline that requires a holistic approach to ensure successful business outcomes. At the heart of every project lies the need for integration, which involves harmonizing various project elements and aligning them towards a common goal.
Project integration management plays a critical role in orchestrating the multitude of project activities, processes, and stakeholders. In this article, we'll define the term project integration management, talk about its importance, and processes.
Before we begin, you can unlock a free trial with Wrike here to get started with project integration management.
Project integration management explained
Project integration management is the coordination of all elements of a project. This includes coordinating tasks, resources, stakeholders, and any other project elements, in addition to managing conflicts between different aspects of a project, making trade-offs between competing requests, and evaluating resources.
For example, if a project is not on schedule, you may need to choose between going over budget or finishing the project late. Assessing the situation and making an informed decision is a key part of project integration management. Integrated project management ensures projects are not managed in isolation. It takes into account how aspects of your project relate to each other but also how other parts of the organization relate to your project. Project integration management is one of the ten key knowledge areas in the PMBOK (Project Management Book of Knowledge) and is considered a critical success factor for project managers and their work.
You may also watch the video below to learn all about how to succeed at project integration management.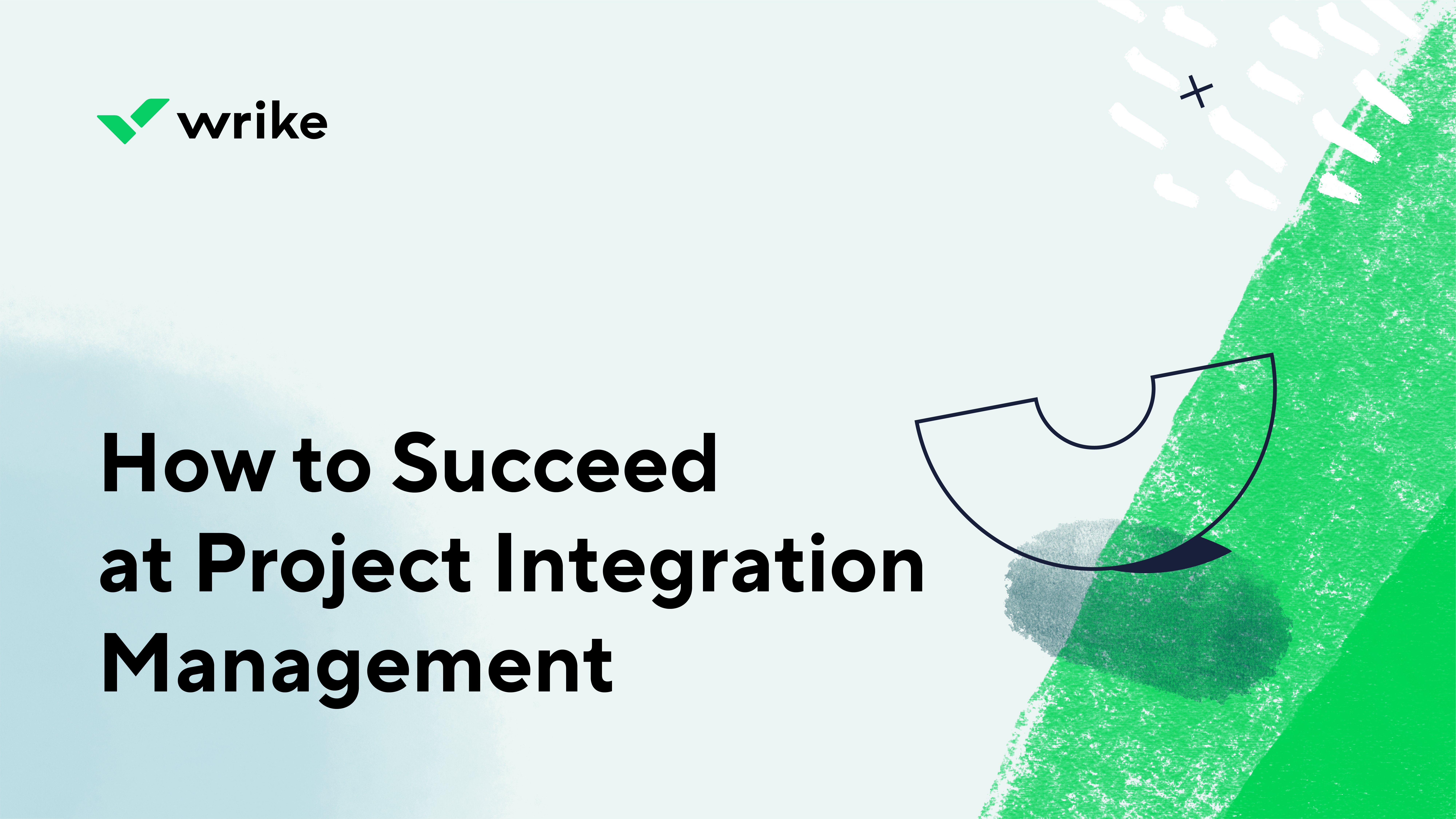 Why is project integration management so important?
Projects are complex, with a lot of different parts that need to be managed. For example, a project manager needs to oversee all of the following:
Schedule
Cost
Scope
Quality
Resources
Risks
Changes
Stakeholders
Keeping track of everything and knowing how one factor impacts the others can be very challenging. However, if it is not done properly, it can lead to project failure. For example, if you don't understand how a scope change will impact your schedule, costs, and resource requirements, how do you manage the change? It increases the chances of not having the people you need, going over budget, delivering your project late, or all three. Decisions about your project can also impact other projects and other areas of the business. For example, what if you suddenly need a software developer to work on your project for another month? Without integration management throughout the organization, it can be hard to see how this impacts the business. Is that resource supposed to be on another project at the same time? Are they supposed to be covering someone's vacation during that period? Without integration management, it's difficult to identify conflicts in advance and know how to resolve them.
Achieve success in every project with confidence

The 'manage project knowledge' step is a new addition to the PMBOK as of the sixth edition, released in September 2017. It was added to address the importance of using information and knowledge to make well-informed decisions. Doing a thorough analysis to understand the impacts of decisions across the whole project is key to project success.
How to succeed at project integration management
Because integration management requires the ability to evaluate resources, make trade-offs and dealing with competing activities, project managers need to have a combination of soft skills and hard skills. These include the following:
Planning
Organization
Communication
Leadership
Relationship management
Critical thinking ability
Data analysis
Impact assessments
Scheduling
Budgeting
Change management
Risk management
It's important to build open communication channels with the project team and stakeholders to ensure information is shared, and proper impact assessments are done to identify points of integration or dependencies. Using integration management software or tools can also increase your project's chances of success. This is because you can use systems to help you identify integration points and conflicts.
Empower your projects with Wrike
Since project integration management plays a crucial role in ensuring project success, leveraging the right tools and technology is paramount. Wrike offers the right solutions designed to streamline project integration processes and enhance collaboration among teams.
With robust features and customizable workflows, Wrike empowers project managers to effectively manage project integration tasks, align stakeholders, and monitor progress in real-time. By providing a centralized hub for communication, document sharing, task tracking, and resource allocation, Wrike enables seamless collaboration and ensures that all project components are integrated cohesively.