Advanced Terminology
What Is the Definition of Change Management?
Change management refers to the tools and processes used to manage change within a project and its team.
To fully understand the definition of change management, you must break it up into its two components: change and project management:
Change: This is anything that transforms or impacts projects, tasks, processes, structures, or even job functions
Project management: This refers to the process of managing a project team and monitoring their activities to meet project goals
The change management process often consists of a project manager and a dedicated change management team. The manager oversees team members' work to ensure they successfully incorporate change into their practices and achieve the overall project objectives. Team responsibilities can include liaising with stakeholders, developing training programs, and tracking engagement.
Change management in project management is a combination of managing change and managing people (teams and stakeholders) to incorporate change. It significantly impacts how motivated employees are and how teams perform.
Want to craft and implement realistic change management strategies for your teams today? Do it with Wrike.
Change management examples
Let's take a look at examples from two industries:
Medical example
Consider a general hospital implementing a new electronic health record (EHR) system. This project would impact almost all aspects of the hospital's operations, from how doctors and nurses document patient interactions to how billing is handled.
Change management is crucial in such a situation to ensure all employees and stakeholders are prepared for the change and trained on the new system. A proactive change management system would also include a feedback system for stakeholders to communicate any concerns or suggestions and minimize disruption to the hospital operations and patient care during the transition.
Tech example
Let's take another example: a tech company transitioning from the traditional Waterfall development methodology to an Agile project management approach. This switch would involve changes in how project teams are structured, how tasks are assigned and tracked, and how outcomes are delivered.
Effective change management in this situation would involve:
Communicating the reasons for the transition and the benefits of the new methodology to team members and stakeholders

Providing training and support to help teams adapt to the new ways of working

Establishing new metrics and KPIs to track progress and success in the new system

Continuously monitoring the transition and addressing any issues or concerns that arise
Mastering change management helps organizations create a system for forecasting and mitigating the unintended adverse effects that often come with change when unmanaged.
Benefits of change management
Change management increases the odds of successful project delivery and organizational success by:
Minimizing disruption:

Any change within a project can cause disruptions, leading to failure and other problems. Change management minimizes this possibility and ensures ongoing projects and the company continue to run smoothly during and after the change.

Promoting acceptance and adoption:

Change management addresses stakeholders'

initial resistance to change

. This is particularly useful for projects involving changes to workflows, processes, or technologies, as these projects are only successful when those affected buy into them.

Enhancing team performance:

Without proper change management, employee performance would suffer in individual projects and the organization as a whole. Effective change management ensures performance is maintained and improved, as employees are supported through transitions.

Creating a culture of adaptability:

Change management creates a culture of improvement and adaptability. This contributes to organizational longevity by ensuring the company stays open to new ways of working and has processes and capabilities in place to adapt to change without breaking down.
Change management vs. project management
Change and project management aim to achieve specific outcomes but approach them from different perspectives.
Project management focuses on executing a specific endeavor with a defined start and end date, as well as constraints around scope, resources, and budget. It involves planning, organizing, and directing resources (people, equipment, and materials) to achieve project goals.
Change management, on the other hand, is a system for dealing with the transformation of a company's objectives or processes. It can fall under project management or stand by itself. Change management implements strategies for effecting change, controlling change, and helping people adapt to change.
To visualize the connection between project management and change management, think of the former as delivering a technical solution on time and within budget, and the latter as a way of ensuring that changes within a project or organization are smoothly implemented and lasting benefits are achieved.
In the first change management example above, project management would ensure that an EHR system is built to fit the hospital's needs and requirements, and change management would onboard and train all hospital employees to use the new system to improve performance across the board.
Change management vs. change control
Change management and change control are both essential for managing change but have separate areas of focus. They help influence change at different stages of a project.
Below is a list of differences between change management and change control:
Change control is the decision to make a change, whereas change management focuses on the aftermath of that decision.

Change control evaluates incoming

change requests

and decides which to prioritize and go ahead with. Change management ensures the people affected by a new solution are prepared for it, have accepted it, and know how to use it.

Change control is procedural and can be carried out at the team level. Change management is strategic and must be signed off by the top management team.
Let's take a look at an example of change control:
A project manager receives a change request from a client who wants a new feature added to the application being built. This feature wasn't in the original project scope, so the project manager takes the request to the change control team (a group of members from contributing teams) responsible for evaluating such requests.
They evaluate the request by considering critical factors, such as:
The estimated time and cost to implement the new feature

The potential impact on the project's deadline

The value that the new feature would add to the application

The potential risks associated with adding the new feature
After evaluation, the team decides the new feature would enhance the application's functionality and could give the client some added advantage. However, they also realize that implementing it would extend the project timeline and increase costs. They communicate this to the client before approving the request and adjusting the project timeline and budget accordingly.
Using change control templates to organize this process helps collaborating teams streamline request intake and keep progress transparent. You can sort and order incoming requests and pass the most urgent and important ones to the project team.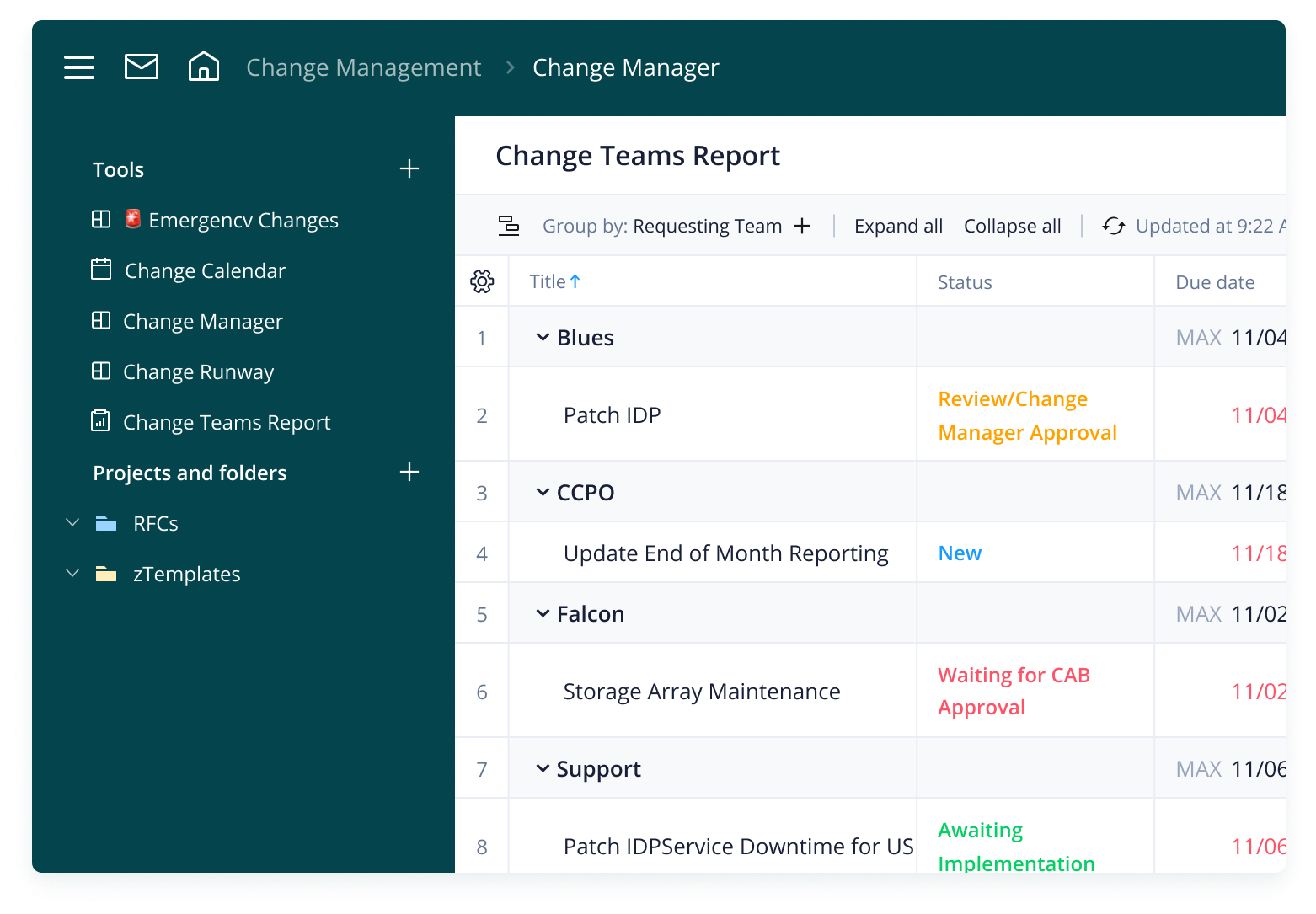 Types of change management
There are many different ways to categorize change management in an organization. However, it is generally understood that there are four main types, which can be adapted to suit varying areas of project management.
These are:
Anticipatory: This involves planning changes in advance of an expected situation. Once the project manager affirms the likelihood or even inevitability of such an occurrence, they can set plans in place for when it arises. An example could be a change management plan for when a senior employee hands in their notice.
Reactive: A reactive approach is used when an unforeseen event occurs. This type of change management is often employed in crisis situations, where there is little time to plan, and the project manager must think on their feet. Reactive change management is not ideal but often necessary.
Incremental: This refers to introducing gradual changes over a prolonged period, such as the ongoing addition of new features to an existing app. As these alterations are small, they are unlikely to cause any upheaval in the overall project. Incremental changes are closely linked to scope creep in project management.
Strategic: These changes are much larger and can affect the overall direction of an organization. A strategic shift in project management could involve implementing brand new technology, requiring a rewrite of the original project plan.
Why is change management important?
Change management is important because the field of project management is fast-paced, and things can change quickly. This means project managers need to be able to adapt accordingly.
It is also vital to have a structured change management process in place so that team members know how to react to change and remain on track to achieve their project goals. The Wall Street Journal notes that "good change management can help employees embrace new technologies and directions, and keep companies relevant." When everyone is aligned on change management, the likelihood of project success increases.
Change management is thus integral not only to large-scale company transformations but also to the minutiae of day-to-day operations and project management. Let's look at how it impacts the following aspects of organizational success:
Day-to-day operations
In the daily ebb and flow of business operations, change is a constant variable. These changes might be small, e.g., a shift in priorities for the week or a minor tweak in a team's workflow. However, their impact, when unmanaged, can cause significant issues across the company.
Without a structured approach to managing and communicating these changes, daily operations can quickly get bogged down and inefficient. Change management helps maintain smooth operations, even during busy, chaotic times. It ensures employees understand the structures and procedures in place and have the tools they need to adapt, work, and maintain productivity.
Large-scale transformations
Change management is also an enabler of larger organizational targets and objectives. Strategic initiatives often require significant changes to existing processes, systems, or structures. Without effective change management, these initiatives may fall flat, with teams and stakeholders resistant to the change or unclear how to proceed.
By ensuring changes are well communicated, understood, and effectively implemented, change management helps organizations align their workforce capabilities with strategic objectives, fostering an environment of engagement and shared purpose.
Project management
Projects will always face change, planned and unplanned. These changes can impact project timelines, resources, and scope, presenting new challenges that must be managed for project success.
Change management provides an efficient and replicable approach for dealing with these changes and challenges. This includes identifying and evaluating their potential impact early in the project planning stage, developing strategies to tackle them, and communicating with all stakeholders to ensure everyone stays on track to achieve their intended outcomes.
Internal communications
Change, left unchecked, leads to uncertainty and confusion. Thankfully, these can be mitigated through clear and effective communication, a critical part of change management.
By regularly updating employees and stakeholders on upcoming changes, explaining the reasons behind them, and outlining what they mean for each team or individual, organizations can prevent rumors and misinformation from spreading, ensuring everyone stays informed and aligned.
Client satisfaction
In the face of organizational change, maintaining client satisfaction can be difficult. Changes can impact service delivery, product quality, customer support, and other crucial aspects of the business, potentially leading to customer dissatisfaction and dissent.
With effective change management, organizations can minimize these effects. By proactively communicating with customers, managing their expectations, and addressing their concerns, companies can maintain and even enhance customer satisfaction during times of change.
Why Wrike is the ideal software solution for change management
Wrike is the perfect platform for change management in software project management. It has a variety of features that can help project managers to manage change in their organization.
These features include:
Create an interactive timeline and update your milestones easily with Wrike's drag-and-drop builder for easy project management. Gantt charts enhance transparency in team and project performance, a valuable functionality for managing changes and communicating the aftermath and progress of these changes to involved stakeholders.
Gantt charts allow project managers to easily toggle views and see the cascading effects of every specific change. For example, if a task deadline is pushed back, the project manager and team members can immediately see which subsequent tasks (and deadlines) are affected. The visual nature of the Gantt chart helps everyone understand the implications of the change and align on the best path forward.
Track progress in seconds and make changes to address any project roadblocks or uneven workloads. Wrike's Kanban boards are useful for visualizing workflows and managing work in progress. They show what tasks are being worked on, who's working on them, and what's next, providing visibility into the team's bandwidth and communicating this with stakeholders.
Managers can see how best to allocate tasks among team members to accommodate new changes with realistic workloads. For example, a marketing team working on several campaigns at once may need to focus more on a high-priority campaign. The manager can view the status of all tasks on their Kanban board and decide how to reallocate resources to deliver the high-priority campaign successfully without ignoring the others. This ability to dynamically rebalance work in response to changes is a key strength of the Kanban approach.
Keep your organization running smoothly in times of change with Wrike's business continuity template. This template facilitates change management by providing a clear, pre-defined plan for managing them. It outlines the processes and procedures to be followed in evolving situations to minimize confusion and enable a quick response. It also helps identify potential risks and their impact, and guides the team in developing mitigation strategies.
Templates are useful for outlining team roles and responsibilities during a disruption, ensuring everyone knows what to do. This clear delegation can be crucial during times of change. For example, an IT team facing a sudden system outage may use the business continuity template to guide the team on how to respond. The template would provide action steps for identifying the problem, communicating with stakeholders, implementing a backup or recovery plan, and restoring normal operations.
With shared team calendars, you can edit dates in seconds and projects will automatically update for everyone. Shared team calendars provide a clear, concise view of the project timeline throughout execution, allowing project managers and involved stakeholders to see scheduled tasks and upcoming deadlines and milestones, which helps evaluate the schedule impact of any change.
Is your company in need of a change management process to improve adaptability? Explore Wrike today to learn more about effective change management in software project management.