Advanced Terminology
Introduction to Project Communication Management
Project communication management is a crucial aspect of project management as it ensures all stakeholders are kept informed about the project's progress, issues, and changes, thereby facilitating effective decision making and collaboration.
In this article, we will dive deep into project communication management, exploring everything from the creation of a project communication plan to strategies for achieving success in its implementation.
Before we begin, you can unlock a free trial with Wrike right now to communicate and collaborate effortlessly in real time.
What is project communication management?
Project communication management is a collection of processes that help make sure the right messages are sent, received, and understood by the right people.
Project communication management is one of the 10 key knowledge areas in the PMBOK (Project Management Book of Knowledge). The processes included in this area have changed over the years but, in the current version, there are three primary project communication management processes.
These are:
Plan communications management
Manage communications
Monitor communications
How to create a project communication management plan
Project managers need to clearly outline how they will manage communications across their projects. This is done by creating a project communication management plan.
When creating a plan, project managers should follow these five steps:
Decide your objectives: What will be the purpose of your communication? You may use some communication tools for awareness, such as a status report. Others may require action, such as requiring a sponsor to authorize spending or a customer to approve project testing.
Determine your audience: Who are the stakeholders in this project? You should make an extensive list of everyone involved. Consider anyone impacted by the project or who influences its success. This list should include team members, sponsors, customers, and other interested parties.
Write your message: What will the message be for each type of communication? This is the actual content that will be shared. Key components to be communicated include scope, schedule, budget, objectives, risks, and deliverables.
Choose your channel: How will the message be delivered? Will it be a formal report emailed out to all stakeholders? Or will it be an informal verbal debrief during a team meeting?
Set a timeline: When will you deliver your message? Do your stakeholders require weekly or monthly reports? Is there a deadline to meet? Consider varying time zones and employee schedules here.
Your project communication management plan should be detailed enough to lay out why you're sending a message, who you're sending it to, what specific information will be sent, how you're going to send it, and when.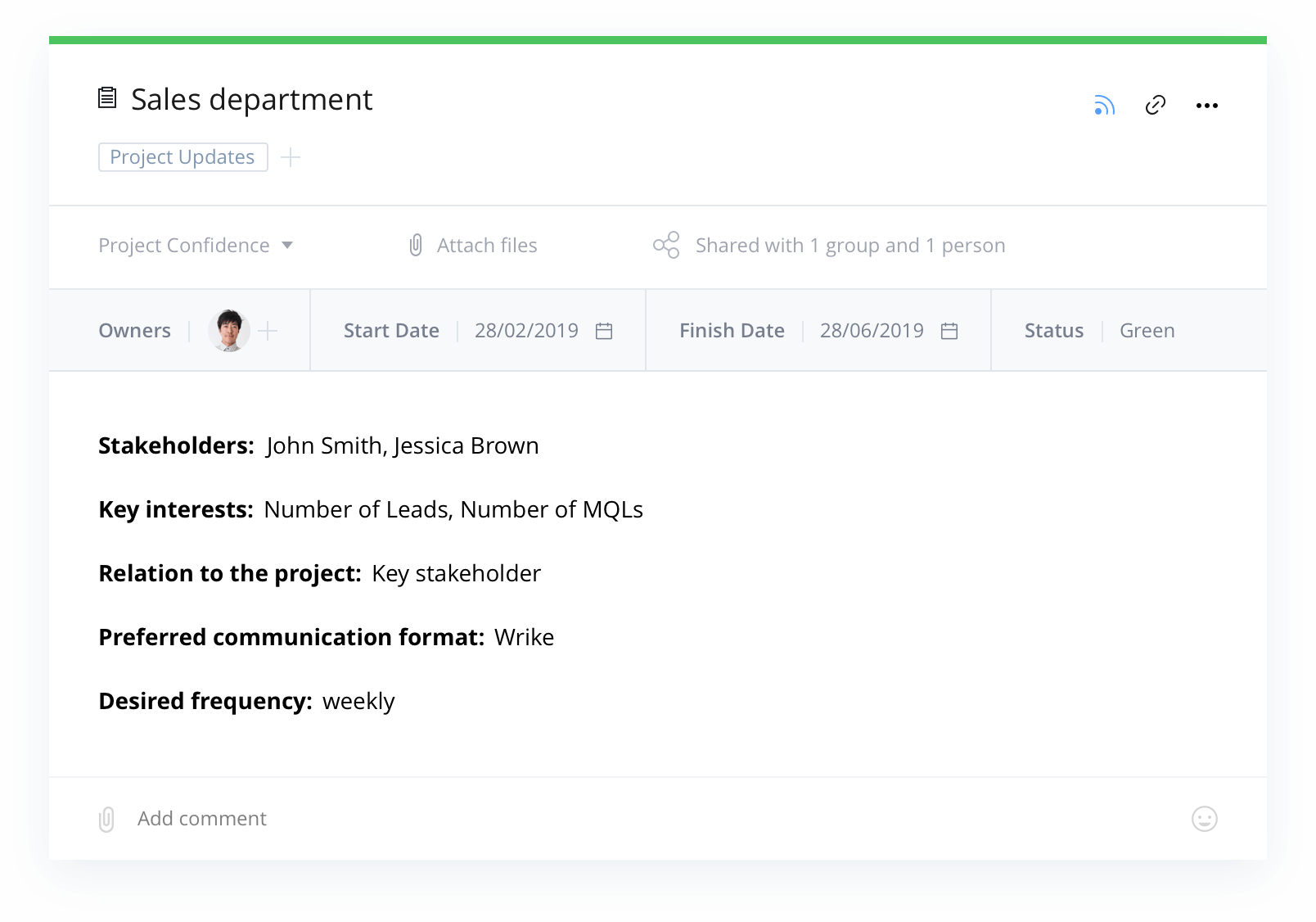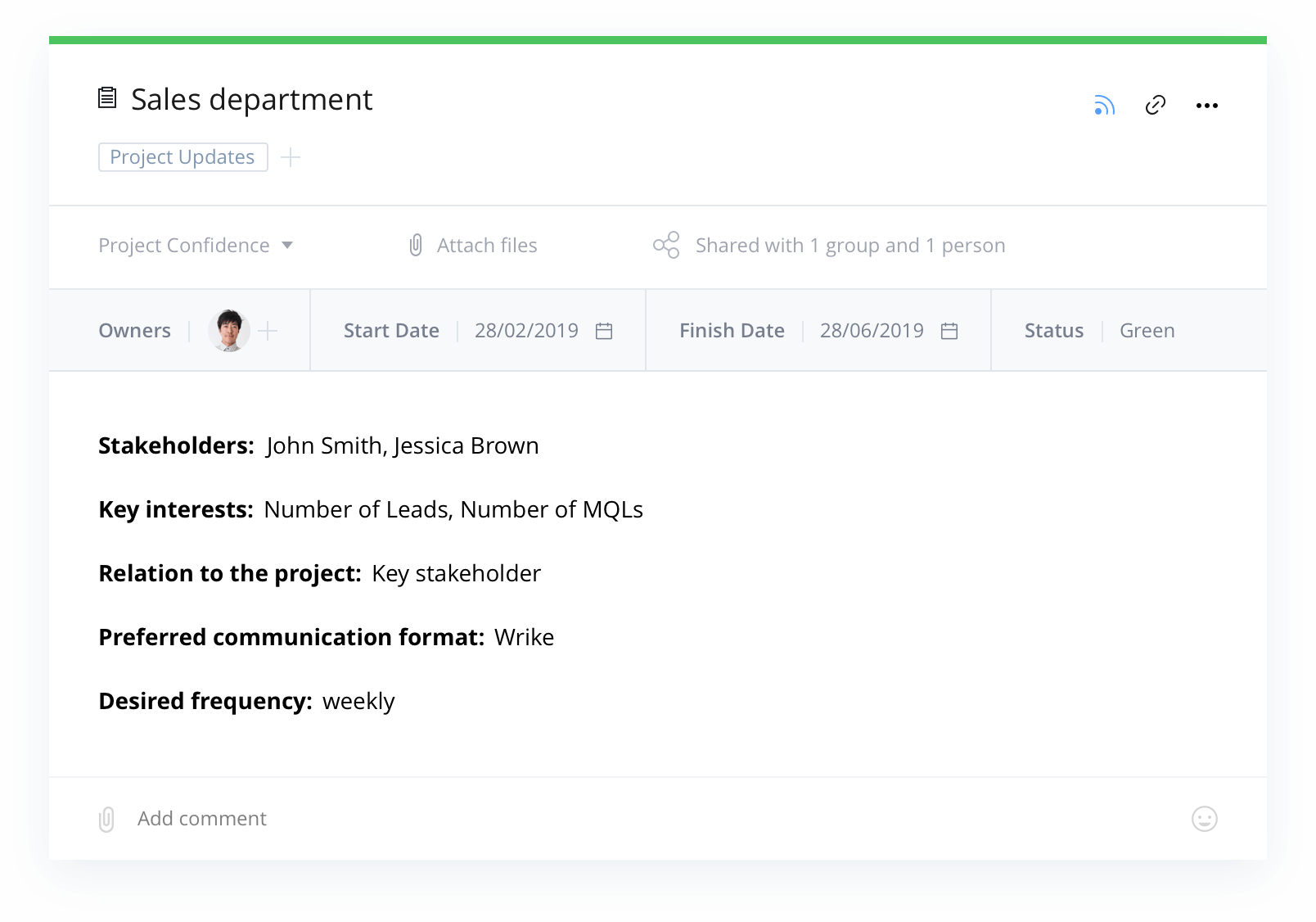 Involving your stakeholders in the creation of this plan is important. You need to understand their communication preferences and expectations. If you over-communicate, they may stop paying attention. But, if you under-communicate, it can lead to misunderstandings and issues.
The golden rule here is that, to be a good communicator, you need to be a good listener. It may seem obvious, but Harvard Business Review points out that listening is an overlooked leadership tool. Pay attention to all the factors and take every opinion into account before creating your project communication management plan.
Manage project communication
Once the project communication management plan has been created and approved, it's the project manager's job to ensure it's carried out successfully. This means the plan needs to be reviewed and updated on a regular basis to reflect any changes to the project or its stakeholders.
The project manager also has to manage the execution of the project communication management plan. This includes:
Collection and analysis of data
Creation of messages for communication
Transmission or distribution of communications
Storage of any communication reports, files, or documents
Retrieval of any stored communications
Disposal of any old communications upon project closure or a set date
Monitor project communication
This process used to be called 'control communications,' but was updated in the sixth edition of the PMBOK. Despite the title change, the process is the same. It involves monitoring and controlling project communications throughout the entire lifecycle.
This may include the confirmation of the following:
Communications went out as planned
They were received by the proper stakeholders
Messages were understood
Any relevant feedback was provided to the appropriate project members
The actual type of monitoring, including method and frequency, should be a part of the project communication management plan.
Manage and monitor communication effortlessly in one platform

How to be successful at project communication management
Excellent communication is a critical component of project success. In fact, poor communication is one of the main reasons a project can fail. Project communication management ensures that does not happen.
Successful project managers use formal and informal communication methods across various channels. This helps increase the chances that messages are received. Use simple language, stick to relevant topics, keep messages concise, and include all information in one place to reduce your chances of communication failure.
The following communication management skills can also increase a project manager's chances of success:
Strong active listening skills
Proficient writing skills
Excellent speaking ability
Asking questions and probing for more information
Setting and managing expectations
Motivating people to become and stay engaged
Conflict resolution skills
The ability to summarize and recap what you've heard
Why use Wrike for project communication management?
Wrike's project management platform is a powerful tool for project managers. It is intuitive, easy to use, and versatile enough to be tailored to your specific project needs. Wrike also has a variety of features that can help project managers increase and improve communication throughout their various project stages.

These include:
Take a tour of Wrike's work management platform and find out how you can boost your project communication management.
So, why not embrace the principles of project communication management and harness the power of Wrike? Doing so can significantly enhance the success rate of your projects, leading to satisfied stakeholders, a motivated team, and a thriving business. After all, effective communication is the cornerstone of any successful project, and Wrike is here to help you achieve just that.