Professional Development
What Is Enterprise Project Management?
Large enterprise organizations typically run multiple complex projects simultaneously. Although these projects do not necessarily seem connected, they all impact the same enterprise organization. Enterprise project management (EPM) refers to the practice of managing projects on a companywide scale. It generally involves implementing strategies and processes to streamline and improve the effectiveness of project management on a large scale. According to the Project Management Institute (PMI), these initiatives can include:
When discussing enterprise project management software, it is essential that they offer specific enterprise-level solutions. They should not only manage a portfolio of initiatives effectively but also facilitate collaboration among teams and departments.
What makes enterprise project management different?
Traditional project management practices focus on seeing one specific project through with a defined, measurable objective.
Enterprise project management focuses on the organization, prioritizing and highlighting its business goals and managing and grouping projects to ensure they meet those broader company objectives.
The end objective is not necessarily a completed project but a project that effectively provides value to the organization.
Utilizing an Enterprise project management tool to align projects with the company's OKRs will aid in maintaining focus across all teams and departments.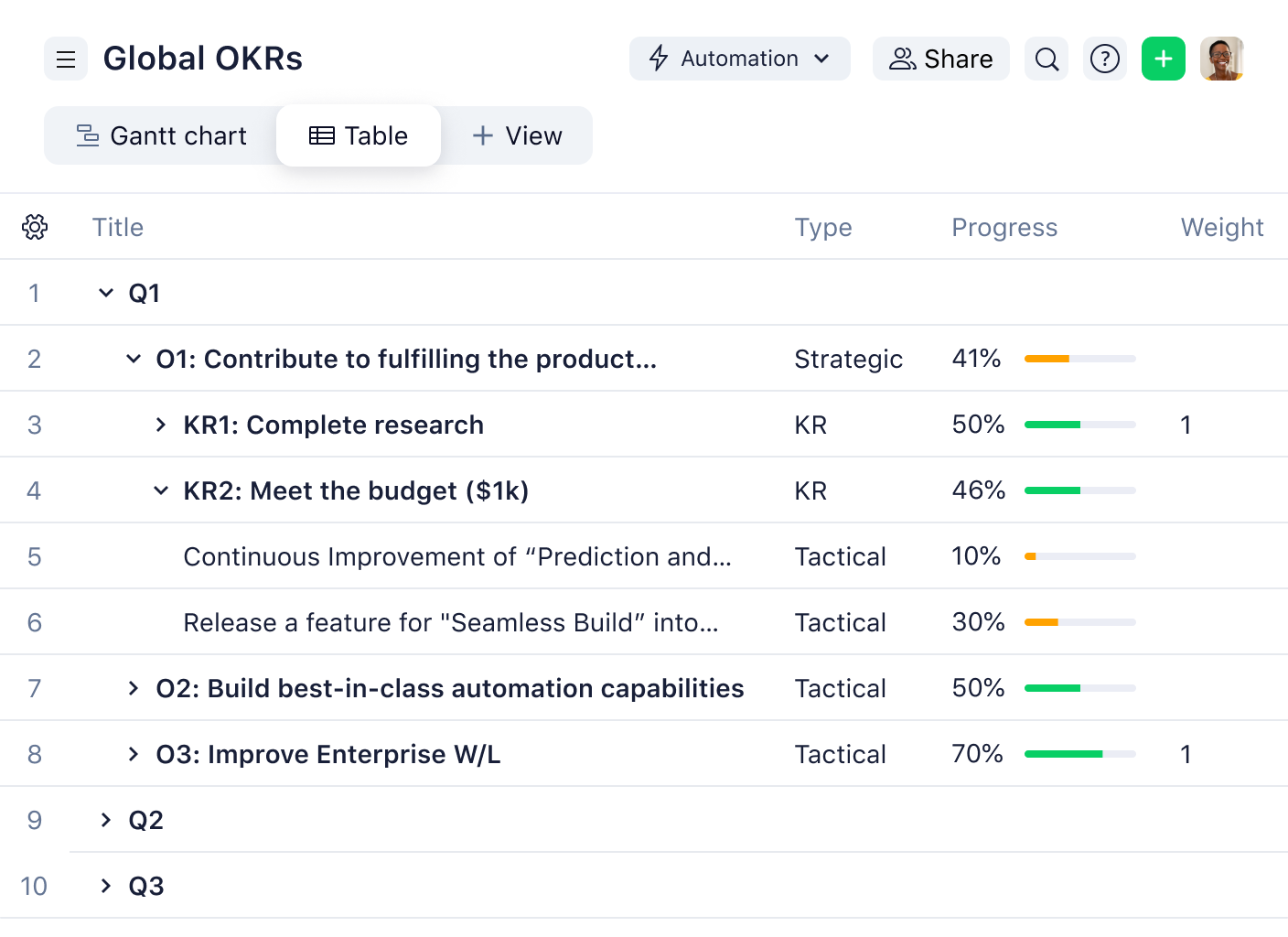 Benefits of enterprise project management
Although roughly 25% of the gross domestic product of developed nations is spent on or through projects, there is often a lack of alignment among projects within an organization. This divide can result in duplication, wasted effort, missed opportunities, inconsistent decision-making, and other hurdles. Organizations, and project managers within the company, need to ensure all projects are strategically focused on their overarching business objectives.
Enterprise project management aims to do just that. As Villanova University explains, EPM practices can "identify when projects conflict or duplicate efforts, and they can recognize underfunded projects that might present an opportunity for the organization." The university cites a potential 20% increase in profits for organizations that employ an EPM system.
The PMI outlines additional benefits of enterprise project management, including:
Higher-quality output
Improved productivity
Reduced impact of skills shortage
Reduced project risks
Enhanced reliability of delivery
Implementation of enterprise project management
Since enterprise project management focuses on the organization's core mission and strategic objectives, implementation of an EPM system begins with a thorough look at the company's existing projects and organizational culture. After all, EPM will require adaptability and openness to change.
It is vital to include stakeholders in an EPM system since the end goal is full transparency, wider participation, more project visibility, and increased monitoring. A high level of communication is essential to bring everyone on board and ensure goals and efforts are aligned.