Scrum of Scrums Meeting
Scrum Guide
Scrum of Scrums Meeting
While daily Scrum meetings typically accommodate smaller project teams working toward a singular sprint goal, scaling Agile Scrum can involve coordinating across departments and capabilities.
When cross-functional collaboration across Scrum teams is needed, regularly held Scrum of Scrums meetings can help align cross-team priorities and synchronize activities towards organizational goals.
Scrum of Scrum meetings are a way of managing the complexity of cross-functional teams who are working toward different, yet integrated goals and projects.
What is the Scrum of Scrums meeting?
Scrum of Scrums (also known as SoS or meta Scrum) is a technique and time-boxed meeting used to scale and coordinate within sizable Scrum environments. It is an example of Scrum at Scale.
In a typical Scrum meeting, a product owner and Scrum master meet with the development team to discuss progress and impediments. Ideally, between three to nine people will attend a daily Scrum meeting. Scrum of Scrum scales this for larger, more complex projects across an organization.
In a Scrum of Scrums meeting, one individual or representative from each Scrum team meets with other similarly designated representatives to relay high-level updates and synchronize efforts.
When organizations have multiple Scrum teams and projects that may be interdependent or integrated, holding Scrum of Scrum meetings enables envoys from each team to communicate progress, impediments, and roadblocks.
A Scrum of Scrums meeting is usually a face-to-face meeting but can be replicated in a remote or hybrid remote environment.
Scrum of Scrums diagram
The graphic below illustrates how representatives from several Scrum teams in an organization filter up to form the Scrum of Scrums meeting.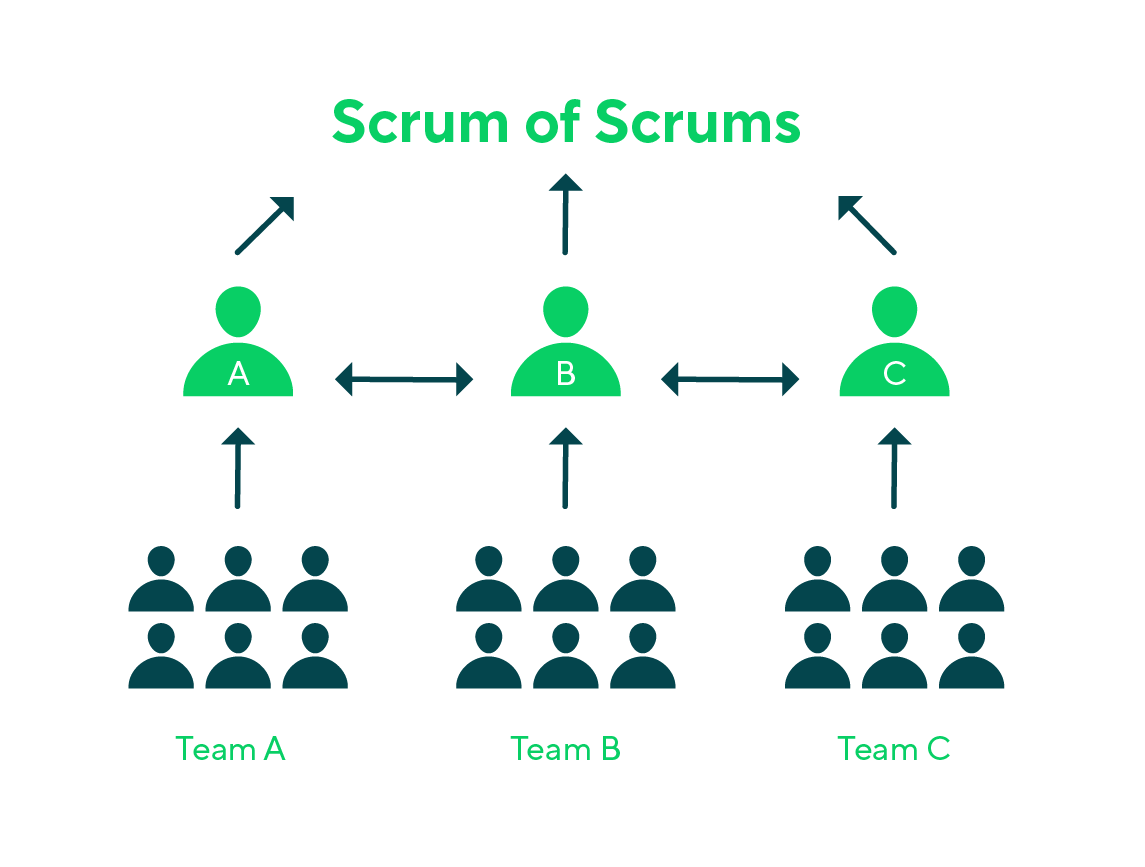 Scrum of Scrums diagram
Envision a gathering of different organs in your body — the heart from circulatory, the brain from nervous, the stomach from digestive, and so on. Here, a Scrum of Scrum meeting would see representatives from these systems meeting to coordinate how to make the day-to-day running of your body easier and more effective. It may be funny to think about it that way, but this is a simplistic way of illustrating how the Scrum of Scrums meeting syncs vital efforts in an organization.
Of course, individual teams can hold their regular daily Scrum meetings as normal. These daily Scrum meetings typically revolve around team members' work progress, issues, and targets for the day.
How often should the Scrum of Scrums meeting be held?
Unlike most daily Scrum meetings, the Scrum of Scrums doesn't have to occur every day. Depending on the teams' preference, a Scrum of Scrum meeting may be held once or twice a week depending on issues arising. Representatives can decide the frequency of the meeting.

Scrum of Scrums meetings have a recommended time-box of 15 minutes, but that can also vary.
Purpose of Scrum of Scrums meeting
A well run Scrum of Scrums meeting can be beneficial in a number of ways. Here's how.

If one part of a system has a problem, it affects the rest — directly or indirectly. This meeting can help to communicate any issues that individual Scrum teams may be experiencing.
Different Scrum teams on a single project or connected projects are like broken lines. This meeting fills in that gap. Through this meeting, necessary information about progress is shared through representatives who can advocate on each team's behalf.
Synchronization becomes much simpler. Scrum of Scrum meetings create a platform for task synchronization, enabling teams to prioritize and communicate remaining efforts and responsibilities.
Benefits of Scrum of Scrums
There many benefits of Scrum of Scrums including collaboration, information sharing, problem-solving and more. Below are more advantages of Scrum of Scrums:

Cross-team collaboration
Maximizes the spread of information throughout Scrum teams via their representatives
Encourages consensus, in turn reducing conflict due to lack of information
It puts teams that are veering off track back on track
Creates a problem-solving platform. The issues that Agile teams can't fix on their own can get fresh insight from other participants
Who participates in Scrum of Scrums meetings?
There is some disagreement about who should attend the Scrum of Scrum meeting. While a Scrum master may be the logical person to send to a Scrum of Scrum meeting, there is also an argument for sending a product owner or member of the development team with greater technical understanding.
The Scrum of Scrum representative may even change, depending on current issues at hand.
Scrum of Scrums agenda
When it comes to the Scrum of Scrums meeting agenda, ambassadors should answer the following questions:
What has your team achieved since the previous meeting?
Are your team members facing any challenges?
Are there any obstacles your team is encountering as a result of another team's work?
Is your team working on anything that may impede another Scrum team's work?
Scrum of Scrums best practices
Now that you have the agenda, we'll move on to the best practices that you can implement in your Scrum of Scrums meeting that are sure to improve it.

Everyone should understand the purpose of this meeting and should come prepared.
There should be a time-box and established frequency for every meeting.
When individual Agile teams choose representatives, they should select ambassadors who can effectively represent their team and communicate progress.
A Scrum of Scrums meeting is not a secret society meeting. Representatives must relay information back to their Agile teams.
Using Wrike as your Scrum of Scrums Agile planning software
For Agile teams, the right tools and software can be the key to more successful sprints, retrospectives, and meetings. For Scrum of Scrums meetings, keeping track of tasks and notes can help teams turn conversations into action. Wrike's meeting notes template also empowers teams to add more value and accountability to their gatherings.
With Wrike you can:
Turn action items into tasks with due dates and assignees
Track progress at a glance with team dashboards
Store meeting notes for increased visibility and information sharing
Effectively manage tasks in a sprint
Turn Scrum of Scrum meetings into more than just a gathering of representatives with the right Agile planning software.