Why Should I Use Customizable Templates in Project Management Software?
FAQ | Project Management Guide
PM Software Features
Why Should I Use Customizable Templates in Project Management Software?
No matter how big or small, any project can benefit from using templates. Templates are reusable project outlines that reduce rework and serve as a starting point for new work. They are pre-formatted and already have some redundant details in place. Templates enable you to set up projects, tasks, reports, and other files without having to start from scratch every time.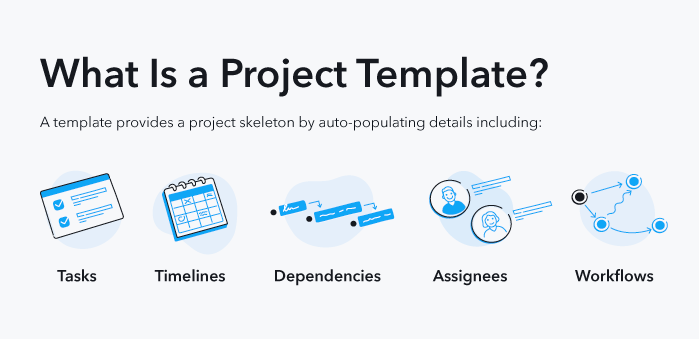 Customizable templates take it one step further than your standard template, enabling you to adjust the template structure and information to suit your project's needs.
For instance, if you were to use a project plan template from Microsoft Office, you'd probably need to modify the generic template to include your company information and specific project inputs every time you create a new project plan. With customizable templates, you can save this information directly in the template, so it's automatically populated every time you need it.
Types of customizable templates
In project management, there are plenty of opportunities to use customizable templates rather than starting from scratch. Here are a few of those opportunities that you should keep an eye out for. Keep these common project templates in mind when deciding on a new project management software.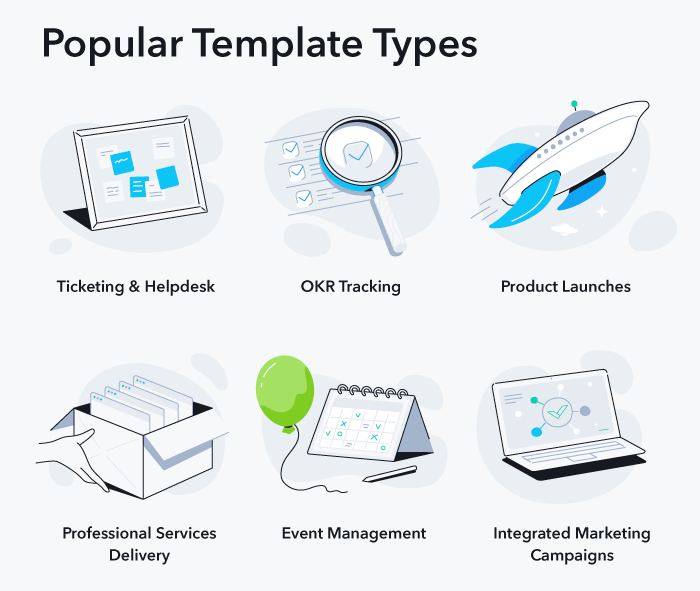 Request forms
In project management software, request forms allow you to capture work requests as they come in. These forms enable you to establish a formal process for submitting, tracking, evaluating, and implementing those requests.
When creating a templated request form, you want to prompt the user to provide any relevant details about their work request. Request form templates will typically offer different question types, including short-answer response, paragraph response, dropdown response, date response, and more.
Templated request forms can be designed to meet the needs of many different kinds of projects. Here are just three ideas of what you can do with request form templates in project management software:
Creative brief templates
Building an effective creative brief template enables you to aggregate the details of a creative request into a scannable and actionable document. Creative brief request forms typically ask for an overview of the request, a profile of the intended audience, specifics on execution, and the names of any relevant stakeholders.
IT/help desk request templates
IT/help desk requests are easily templated and save technicians valuable time and resources by clarifying the important details of the problem and assigning a priority level to the request.
HR & administrative request templates
Request form templates can help human resources teams gather important administrative information passively, minimizing the need to hunt down small pieces of employee information.
Other common request form templates include:
New project request form
Change request/issue resolution form
New hire setup
PTO request
Marketing ops campaign request
Expense reimbursement request
Security access request
Office supplies request
Project management software that includes customizable request form templates will ensure your team gets all the important information without asking unnecessary questions.
Here are 10 request form samples to get you started.
Templates for tasks, folders, and projects
Project management software folders allow you to structure your projects and tasks to allow for easy navigation and management. Folders enable you to group similar projects or tasks based on whichever criteria you specify.
Tasks and projects are the main building blocks within project management software that help you track and organize your work.
A task is a single unit of work that needs to be accomplished within a project. A project is the entire series of tasks that need to be completed together to achieve a single outcome or goal.
Templated tasks, folders, and projects can provide you with a framework to begin new projects that have similarities to previously completed work. If you find yourself working on tasks that are consistently similar to previous work, it might be time to build out a custom template.
Templates for tasks, folders, and projects can allow you to easily duplicate:
Task descriptions, including any instructions and information pertinent to the project
Assignees or relevant stakeholders needed to review deliverables
Timelines or workflows to maintain consistency in scheduling
Relevant files that can be used for reference or to walk you through additional tasks
By building templates for your folder structure, project structures, and tasks, you can save time and ensure work is consistently structured throughout your project management software. With templates, you already have the outline and structure each time you create a new project or task.
Report templates
Report templates help you quickly create reports to gain more visibility into your projects, monitor how work is progressing, or assess what work still needs to be assigned. Reports in project management software are also a valuable way to communicate progress with stakeholders.
Some common report templates are:
But what if you have clients or stakeholders who have specific criteria they want to view in reports? If you're working from a standard template, you would have to modify the report every time. Fortunately, with customizable templates in your project management software, you can change the template and then run the requested report as many times as needed, with no additional manipulation required.
Other common templates
Here are some more projects and activities that can benefit from the use of templates:
Professional services management
Product launches
Incoming proofing and approvals
Job candidate tracking
Editorial calendar planning
Benefits of customizable templates
It's essential to choose a project management tool that's flexible enough to support different project requirements and people's unique work styles. Customizable templates allow users to create individual views and reports that reflect their working style and the information they care about.
Customizable request form templates also enable you to vary the information requested and collected based on the customer or scenario. For instance, customizable form templates give you the flexibility to vary questions for different types of customers or projects.
After all, the work intake request form for a fixed-price service project requires significantly different information than the form for a cost-plus-material and labor project.
Customizable templates not only assure that everyone starts with the correct structure and format but they also lower the risk of essential information being missed.
When you're starting work on a project, a blank canvas can be terrifying. How do you ensure you have everything you need? How do you align your goals and priorities with other teams? Is there a way to create a formal process to keep recurring work consistent?
The answer, of course, is by using customizable templates in your project management software.
If you start a new project from scratch, you and your team are on your own to collect all of the information about what tasks, deliverables, requirements, etc., are needed. In comparison, if you start with a template of a similar project, you already have most, if not all, of this information populated, and your team simply needs to confirm that it's all relevant.
This process lowers the risk of forgetting important requirements, and it also reduces the time it takes to collect information and kick off a project. Customizable templates make replicating work easy by automating repetitive processes and maintaining consistency across projects.
The bottom line is that customizable templates in project management software set you and your team up for repeatable success while also making you more efficient.